Lip fillers Glasgow
Lip fillers Glasgow West End
HOW DOES JUVADERM® LIP FILLER WORK?
Juvaderm® VOLBELLA® with Lidocaine is the latest advancement in the Juvaderm® range of facial fillers, developed specifically for your lips and mouth area.
It is a smooth gel that is injected by your physician, using an ultra-fine needle. It has been specifically developed as a smooth gel to give a soft, natural feel. The gel fills in lip lines and wrinkles while the hyaluronic acid within attracts and retains moisture, so results can last up to a year.
Juvaderm® adds definition to the mouth and the outline of the face.
A study showed that 98% of people who had Juvaderm® VOLBELLA® with Lidocaine reported that their lip appearance goals had been achieved; with results lasting up to 12 months.
Positive Results of Lip Fillers at our Glasgow West End Clinic
The gallery below shows some of the ways in which Lip Fillers have delivered outstanding results for our patients.

Please slide the handle on the image below to highlight the benefits of choosing Juvederm Dermal Lip Fillers.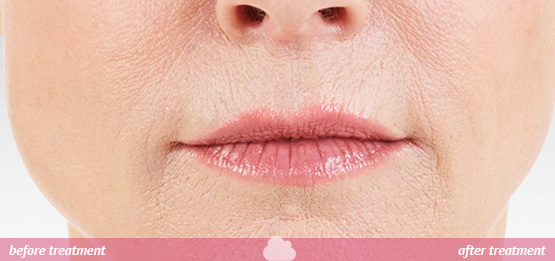 Gives a soft, natural feel
Attracts and retains moisture
Results can last up to a year
F.A.Q. FREQUENTLY ASKED QUESTIONS ABOUT LIP FILLERS
CUSTOMER BOTOX REVIEWS

My skin has noticeably sagged over the past few years and I had had enough so called around some clinics that I found online. I went to Cloud Nine in the end and was happy with the results. The doctor was very clear in what he was doing and calm so I felt relaxed. I got the lines from my nose to mouth filled with Juvederm (4 if I remember correctly). I got a small bruise from the injection but it was easy to cover and other than that the whole thing was quite painless and nothing to worry about. I like the way the lines have become less noticeable, smoother I suppose and I am booked to go back to have my lines above lip done next month.
"
"The skin on your lips is constantly moisturised from within by hyaluronic acid, a naturally occurring sugar. However, the skin loses hyaluronic acid over time, and lines begin to appear around the mouth."
Cloud Nine Lip Fillers Glasgow